Do you suffer from a chronic case of "The Monday Morning Blues"?  
You know the feeling. It usually starts about Sunday evening after dinner. You begin to dread going back to work. You were so happy all day Saturday—not having to think about your job, your boss, and your co-workers. Now, with the weekend winding down, the feeling starts to hit you.
Yes, tomorrow it is back to your j-o-b. The job that pays your bills and feeds your family, but doesn't feed your spirit. You'd love to move on to something else, but you've put in so much time there and make such good money that you're stuck. Really?
Wouldn't it be great to make your Mondays motivational, moving, and marvelous? Simply mah-velous!
Without too much ado, this is my story!
Well, I am here to tell you that you can make your Mondays motivational, moving, and marvelous. Why? Because I made it happen. I gave up a four-hour a day roundtrip commute. One night after dodging almost five accidents, I decided if I was going to live long enough to see my next birthday or the next season of America's Got Talent—something had to be done.
Luckily, I had been reading the newsletter, ChangingCourse.com, and actually started looking at a few possibilities for income streams and jobs that I could do at home. I had been following Dr. Valerie Young for years, and just devoured every one of her newsletters on how to find your true calling. I loved and "totally got" her radical think-outside-the-job-box way of thinking.
I decided that virtual assistance probably made the most sense to do, so I began my virtual assistant practice in 2007 and was quite successful. I wasn't sure how passionate I would be about virtual assisting, but Dr. Barbara Sher (author of Wishcraft) would call it "a good enough job". To this day, I am still the owner of GBS Virtual Office Solutions (formerly Gemstone Business Solutions).
As I became more and more successful, others wanted to know how I did what I did. I began writing for two blogs, WAH Adventures and Real Ways to Earn Money Online and became known as a "work-at-home expert" (their words—not mine).  I wrote company reviews on companies that hired remote workers.  I also wrote on topics, such as how to find freelance clients, technology tips, apps reviews, and a host of other topics. I was later commissioned to write my eBook, which is listed below.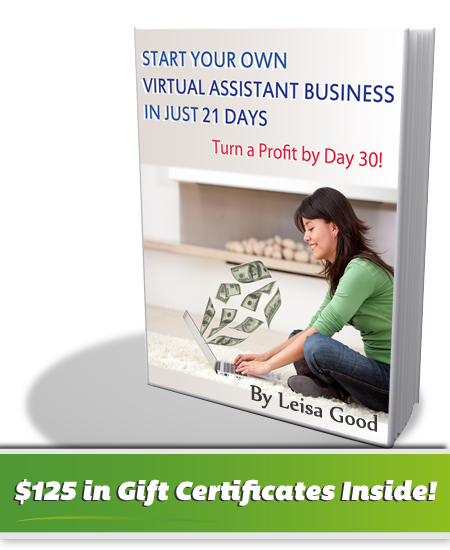 My eBook has been selling on its own
website for years and is now on Amazon Kindle.
Even clients were just as anxious to have me brainstorm ideas with them as they were to have me correct their grammar or spelling or write for them or do all the other things that virtual assistants do.
My own coach, a marketing coach, said to me one day, "Leisa, if you don't start teaching others how to work from home doing what you're doing—you're nuts! Now, go coach!"
This was music to my right-brained ears! I later applied to Dr. Valerie Young's Profiting from Your Passions Career Coaching™ and was accepted. The rest is history, but history in the making!
Enough about me! Are YOU ready to release your own story into the world?
The world really needs to hear from you.
Why? Because there is only one you. One authentic you, who can do what you do and how you do it. No one else.
Are you ready to:
Step into your own unique genius?
Start living and working authentically?
Stop experiencing lack?
Stop underachieving?
Let's work together to make you unstoppable and "unstuck-able"!
Wishing you all of my best,
Leisa