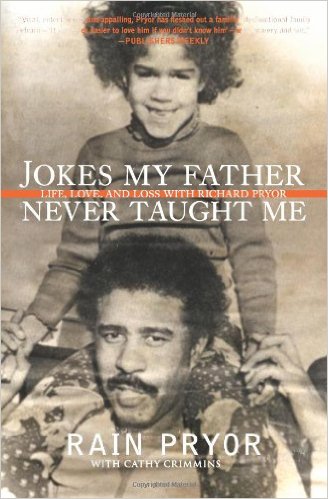 This was a great read from a woman who has had to make her own success by NOT banking or dovetailing on the success of her famous father. In her book, Jokes My Father Never Taught Me, Rain Pryor, decided to create her own style of comedy despite the problems she encountered.  
For years, she struggled with rejection. No one "got" her comedy—it was a different genre than what was currently being performed. It was also different from her famous father's brand of comedy. However, despite these setbacks, she went on to create her own unique style—her own USP (Unique Selling Position).
Two Memorable Quotes
My two favorite quotes from the book are:
"Success is the best revenge; it's the ultimate ha-ha."
"I can sit around and wait for someone to put me in a box. Or I can create something and say, This is what I do."
Rain Pryor
Daughter of Richard Pryor
Comic, Actress, and Singer
A Lesson Learned From Rain
So for those of you who are struggling in your current situation, please get a copy of Rain Pryor's book, Jokes My Father Never Taught Me.  Here is a woman who struggled under her father's famous name as well as because her comedy which was not considered "black enough", "Jewish enough" or "she-male enough."  It just wasn't enough for the reviewers.  However, it was enough for Rain.
She knew—deep down—who she was and what she was about.  It was just a matter of standing up to those who didn't know and make them aware.
Passion In Motion
This is truly the meaning of passion.  She knew what she wanted and wasn't afraid to go after it on her terms.  She also wasn't ashamed to add her own authenticity to it and truly own it as hers. 
In Conclusion
Find income streams and businesses that will drive you to be this passionate and this determined to do it your way as no one else can.  Also, own it.  Go ahead.