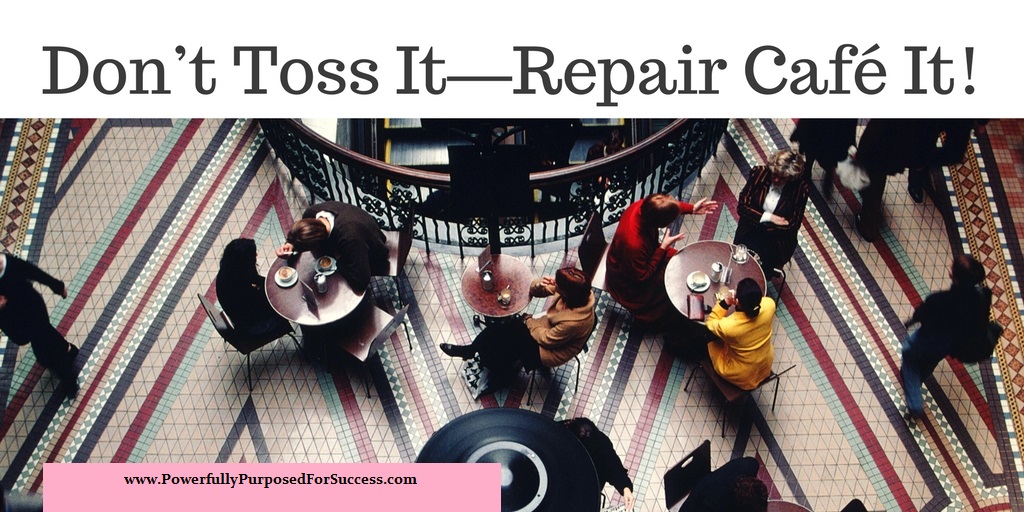 Are you someone whose nickname is "Mr. or Ms. Fix It?"
Are you someone who enjoys contributing to the community?
Are you someone who is concerned about the environment and recycling?
Then maybe you should attend or start your own Repair Café.
What Exactly is a Repair Café?
A Repair Café is a place where people in the community meet how-ever many times a month to volunteer to fix things.  Volunteers with special "fix it" skills show up while visitors to the café bring broken things such as computers, bikes, stereos, jewelry, lamps, and just about anything else.  Many times there are also volunteers who sew and repair clothing as well as have a clothing swap.
No money is exchanged, but tips are welcome to pay for the lunch provided and the space rented out for the event.  Churches, synagogues, community centers can all be turned into a one-day repair café.   Tools are usually supplied there as well as the volunteers many times will also bring their own tool kits.
The idea first came in 2007 to lady in Amsterdam named Martine Postma.  Once she organized the first Repair Café on October 18, 2009 the idea caught on.
What Are Some of the Benefits of a Repair Café?
There are many benefits to a repair café.  There are so many benefits and we can explore each one in more detail.  They are:
It creates a sense of community.
It cuts down on the junk and refuse going to landfills.
It allows visitors to watch and learn how to fix their items the next time.
It helps sharpen everyone's problem solving skills.
It helps fuel the self-sustaining life.
It is just plain fun!
It creates a sense of community, because volunteers come from all over and so do visitors.  You are bound to meet someone you know as well as enjoy seeing people get their items fixed.  If you are the volunteer then you know how great that can feel when you do something good for someone. 
This also places a value on everyone—especially the volunteers—as someone special with a skill and contribution to make towards the betterment of the community.  Many times laborers of those who work with their hands for a living are not as valued as those working with their minds.  The Repair Café was meant to help everyone feel valued.
Repair Café coordinators will match the person needing the repair with the volunteer.  So there is a sense of everyone fitting in and being important.
It cuts down on the junk and refuse going to landfills—not to mention cuts down on CO2 and emissions in the atmosphere.  When people no longer have to discard something and replace it with something new, there is less going to the landfills.  It creates a sense of recycling, which is essentially what you are doing.
It allows visitors to watch and learn.  Not only will those bringing in the items learn how to repair them next time, but also onlookers can learn a new skill.  So, if you have been chomping at the bit to learn a few how-to's to make into a side gig or add to your already operating side gig—this might be your chance. 
It helps sharpen everyone's problem solving skills.  Many times there are numerous ways to fix an item.  Whenever you get a large group of skilled laborers together from many different industries, you will find that there can be several ways to fix an item.  It is not uncommon to see several volunteers offering assistance and expertise.    
It helps fuel the self-sustaining life.  There is a sense of frugality as no money is exchanged for time.  The person with the broken item has had it fixed for free and possibly is empowered with the knowledge to fix it next time.  It brings back a time when people relied more heavily on tools and knew how to fix things themselves. 
Also, those of you who have coached under me, know how I am always getting you to find ways to save money for and also fund your dream.  This is a great lesson in bootstrapping and frugality.  
It is just plain fun.  It can be a great excuse to get out of the house and just have fun.  Even though money is not exchanged, tips and donations can be made to pay for the cost of renting the space or as a donation to the sponsoring organization.  There is usually enough money left over to buy pizza or have food there.  Watch, learn, volunteer, laugh, and just enjoy!
Aren't Volunteers at the Repair Café Competing Against Local Repair Professionals?
While it may seem that way at first, most of the visitors only have one or two things and generally cannot afford to have it repaired by a professional.  Also, the cost of repairing it would be so much that it is just as easy to just go and buy another one.
How Do I Find a Repair Café or Possibly Start One?
You can actually do both.  Using the locator on the website, I found that there were four in my own state of Virginia.  There are currently 1,259 around the world.
Just go to their website (you may have to click the translate button), and click on Visit on the top navigation bar.  You will see maps from around the world with small circles in your area.  Just click on those.
You may also start a Repair Café of your own.  You can also go to the website and buy the starter kit.  You will get the signs, logos, templates, and registration forms.  Even though the service is free, you will need to make sure everyone understands the liability involved.  Volunteers can link their website to the Repair Café if they like to show their community involvement. 
How Would a Repair Café Benefit Me When I Am Trying to be Self-Employed?
Well, several ways to be honest.  This would be a great way for you to volunteer your services and/or learn a new skill while observing or offering to help.  Remember the article that I wrote about getting business through volunteering?  You can also link your website to the Repair Café and let others know that you and your business volunteer in the community. 
You could also take the same concept and build your own business.  For example, if you are a freelance writer, maybe you could start a word repair café or a sentence repair café.  Or if you teach manners and etiquette, you could have a manners repair café.  So, please brainstorm here! 
What Is My Opinion of a Repair Café?
I think it is a great idea all the way around.  I particularly liked watching the two YouTube videos on it.  These are the two English speaking ones:
https://www.youtube.com/watch?v=AO-EuhVzONM
https://www.youtube.com/watch?v=aJJKCQNBpAo
In Conclusion
As always, I would love to hear from any of you who have been to a Repair Café, started a Repair Café or volunteer at one.  How has it impacted your life and sense of well-being?  Feel free to post your comments below.