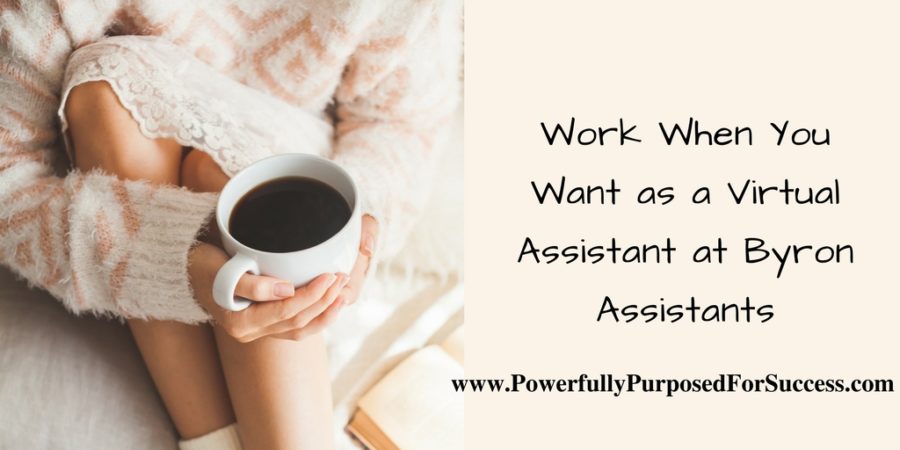 Are you looking for a very flexible work-at-home opportunity?
Have you thought about becoming a virtual assistant?
Do you want to log in and work whenever you want?
Then keep reading, because Byron Assistants might be just what you are looking for?
What Exactly is Byron Assistants?
Byron Assistants is an online, virtual company that hires virtual assistants to work as independent contractors doing a variety of duties for a variety of clients.  If selected, you will be put through their own training and certification program.
You will be able to just log in whenever you want and just start working using their platform.  Clients also log into the same platform and can communicate with you via their chat feature.
What Do Byron Assistants Do?
Byron Assistants are virtual assistants who help clients of all sizes better manage their time by allowing them to delegate their administrative tasks to them.  This gives the client more time to focus on business and making a profit with fewer distractions.  This is basically what all virtual assistants do, but what is really nice about Byron is that you can choose the tasks you like and skip the ones you do not.  They have 12 categories including weddings—yes, wedding planning.
You can basically set your own schedule and work as little as 1 hour a month on up to 160 a month.  You just log in and your time and projects will be tracked for you.  You will use your experience and training to do the work.  Clients can also request virtual assistants and choose team members as they get to know you. 
The categories are:
Administrative
Data Entry
Lead Generation
Marketing
Personal Tasks
Phone Calls
Proofreading
Research
Scheduling
Transcription
Travel
Wedding Planning
Clients may also set rules for how they like something done.  For example, one client may want their leads typed on an Excel spreadsheet where another client wants them bulleted in a Word document.  You will learn all of this in training.
What is the Pay Like at Byron Assistants?
Clients pick their own pricing plans with the pilot program being the least expensive—offering 3 hours a month at $66.  The Regular Plan is 10 hours for $210; Plus Plan is $20 hours is $400; Pro is 40 hours for $760.  Obviously, some of that will go towards the cost of running the company and the company commission (Byron's markup). 
Basing these costs on two similar virtual assistant platforms that I had personal experience with (maybe the subject of a future blog post), it appears that the assistants make between $8 to $12 an hour with the average being $9 per hour.  These would also be based on the virtual assistant's experience as well as the client.
The client can also roll over unused hours and even set a time limit for each project.  For example, if you are making $9 an hour and the time limit on your research project is only 45 minutes then you would be paid $7.25 for that project.  So, it must be an exact hour. 
Payday is every two weeks via PayPal.
What Are the Requirements to Work as a VA at Byron Assistants?
This is a US-based company in New York City which only hires those eligible to work in the United States.  Once you have applied and sent in your resume and shown your proof of your eligibility to work in the United States, you will be invited to an interview.  However, in order to get to that interview, you must have:
A college degree in any field.
Three or more years' experience in an administrative role.
Submitted an acceptable writing sample.
Passed their proofreading test.
Willingness to get trained and certified.
What is Training Like at Byron Assistants?
Training is unpaid and looks to be fairly quick and done in a few hours.  After training there will be a test to see what you have learned.  This would be your certification.  
How Can Interested Individuals Apply to Byron Assistants?
Go to their website and click on Apply Now.  Then type in your email address.  They will get in touch with you and ask for your resume and I-9 paperwork.  If accepted, you will be invited to an interview.
Good luck to all who apply.
As always, I am delighted to hear what you have to say and read your comments.  Please feel free to post those below along any questions, and I will be happy to read what you have to say. 
P.S. If you would like to also know other ways to become a VA, you might be interested in my eBook at www.21daystovabiz.com – try it and see!