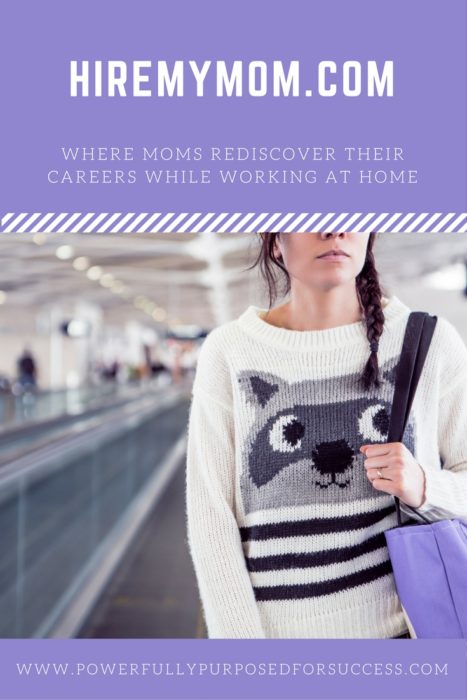 Are you a professional who put your career on hold to stay at home with your kids?
Do you still want to "be there" for your kids, but bring money into the household?
Then HireMyMom.com might be the answer that you've been seeking. 
What Exactly is HireMyMom?
HireMyMom is a work-at-home job site, where businesses outsource jobs and moms apply to them.  Jobs can be short-term or long-term as well as paid by the hour or paid by the project. 
The jobs are in a variety of professions such as:
administrative
research
writing
graphic design
editing
accounting
web design
customer service
virtual assisting
coaching
sales
marketing
public relations
bookkeeping
legal
desktop publishing
creative arts
medical billing
ecommerce
strategic planning
database development
payroll
human resources 
How Did HireMyMom Get Started?
Lesley Spencer Pyle started the national association of Home-Based Working Moms in 1995 after her first child was born.  Her passion was and always has been helping moms find work that allows them to work at home.  Again in 2007, this dream was born for Lesley when she founded HireMyMom.  Lesley discovered that many women had put their careers on hold to stay at home with their kids, which equated to a large talent pool just waiting for the opportunity to work from home.
Lesley has been featured in Forbes, Entrepreneur, Wall Street Journal, USA Today, Home Office Computing, Parenting, Business Start-Ups, Dr. Laura's Perspectives, Family PC and many others.
How Do You Get Started With HireMyMom?
With HireMyMom, you go to the website and join.  You may choose to pay for the full yearly membership of $99 or the quarterly of $29.95.    However, you are not paying for jobs, but the upkeep and maintenance of the website itself.  Several freelancing moms have mentioned that it is well worth the price of the membership.
As a coach, I always prefer that individuals "hang their own shingle" and learn to market.  However, I do understand that marketing is time consuming and some would rather not do it.  For those, there are sites like this one and FlexJobs.
How Do You Set Up Your Profile at HireMyMom and How Is It Different?
After you pay for your membership, you will create a user name and password.  Once that is verified via email, you would set up your basic information just like you would at any other job or bidding site.  With HireMyMom, you won't be bidding on but applying to jobs.  This would be done just as if you were applying to a regular Brick and Mortar (B&M) job. 
One big difference is that HireMyMom doesn't take a percentage of the contract price like most other outsourcing sites.  Workers can keep all that they earn. 
The only problem is that HireMyMom doesn't offer any escrow protection or dispute resolution for its freelancers if there is a disagreement between a freelancer and a business.  Negotiations and payments take place "off-site" which means that you are on your own when it comes to collecting whatever amount is due.
While HireMyMom does try and do a limited screening of clients, workers are also encouraged to their own investigation and research of a client before committing to the work.
However, from the reviews I am finding out that they are good about investigating when a posted job was misrepresented and correcting the situation immediately.
What Are the Requirements to Work at HireMyMom?
 You will need:
1 to 2 years of experience in your area of expertise.
a commitment to professionalism and excellence.
dependability and reliability.
honesty and integrity.
excellent customer service.
What is the Pay Like at HireMyMom? 
Again, the pay at HireMyMom is either paid by the hour or by the project and relative to the type of work that you will be doing.  You can preview some of the jobs here.  Most of the jobs appear to be in the $10 to $35 an hour range. 
What is My Overall Impression of HireMyMom?
I was very impressed with Lesley Spencer Pyle and her credentials.  HireMyMom did receive 3 out of 5 stars for 9 reviews.  You may read it here.
The website also has a blog with a lot of good information on developing your skill sets and working from home.
How Can I Apply to HireMyMom? 
Go to the website and join.  Again, you may choose to pay for the full yearly membership of $99 or the quarterly of $29.95.  
Good luck to all who apply.