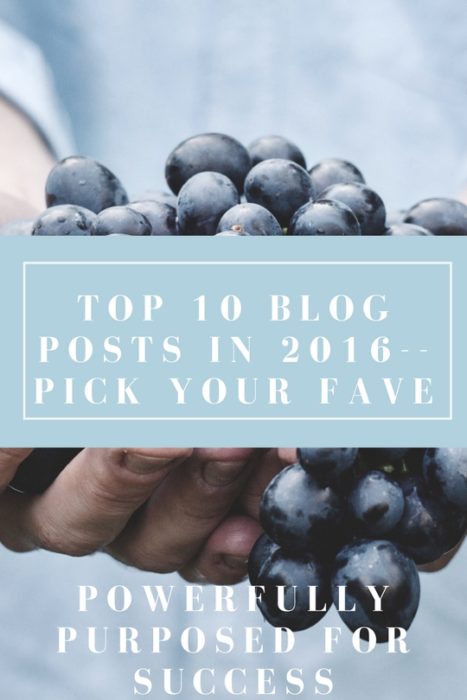 Even though my blog is still fairly new, it did manage to work out its own little top 10 blog posts list.  I am just bursting at the seams with all of the things that I have planned for 2017—both online and offline.  And yes!  I have many more great posts spinning around in my head and keyboard just bursting to get out. 
I hope that all of you will stick around and be able to use this blog as one of the many available resources for searching for home business ideas, work from home ideas, and just plain old finding your true calling and purpose.  Just because these posts were written in 2016 does not mean that you cannot use them in 2017—you can!
You will probably recognize many of these posts if you have been here for a while and some posts you may not recognize. 
Whatever the situation may be just sit back and grab a hot beverage (my favorite is black coffee), and enjoy.  You may also comment if you feel like it.  The posts are ranked with the most popular posts at the top. 
Here is the Top 10 Most Popular Blog Posts for 2016:
Write Product Reviews and Earn Money at Bestcovery – This post introduced a site where you could write product reviews and earn money.  Many freelancers start out writing product reviews, because they are not too difficult to write and are a good way to finally break into freelance writing.  
Become an Appointment Setter at Interactive Circle—Earn Bonuses – This post introduced the company, Interactive Circle.  Appointment setting is one of the most popular types of work at home jobs.
HireMyMom.com—Where Moms Restart Their Careers at Home – This post introduced a legitimate site where you could join for a membership fee, but still find good paying legitimate work in many categories.  Many moms—and dads—join this site to either restart or keep their career while at home caring for a family.
HubStaff Talent—Freelancing Without the Fees –  This post introduced a new, legitimate site where you could join for free and would not have any fees deducted from your earnings like other bidding sites.  The site seems to be taking off nicely.
7 Reasons Why You Can't Get Focused – This post will explain why you cannot get and stay focused.  Do you remember which animal has the same focus rate as most humans? 
How to Find Your Perfect Work-at-Home Job – This post lists 11 great places to find screened and legitimate work from home jobs and companies.  There are also tips that you can use—and should use—as you apply to work from home jobs.   
Transcription for Everyone Hires New and Seasoned Transcribers – This post introduced the company, Transcription for Everyone.  The great thing about this company is that it will accept new transcribers that want to get started in transcribing, but don't know where to go to do that.
What is Your Motivational DNA? – This post introduced you to motivational coach, Tamara Lowe.  It introduced you to some of her resources as well as how you can find your motivational DNA (not the kind you are thinking about either).
Try Product Hunt As an Extra Income Stream – This post introduced the company, Product Hunt, which is a place where apps developers and business owners meet.  Did you know that you could have an app developed either for your business or a great idea you have?  It can be a great way to earn extra income or become a full-time apps developer in your own business.
How to Defend Your Dreams Without Ruining Your Holiday Meal – This post gave advice on how to keep the peace during the holidays when well-meaning relatives and friends may not be supportive of your dreams.  Don't let their comments ruin your visit or your meal.
Well, that wraps up 2016's most popular blog posts.  It will be interesting to see which ones will be in the 2017 list.  Then again, they may all be replaced with newer and more popular posts.  We shall see.