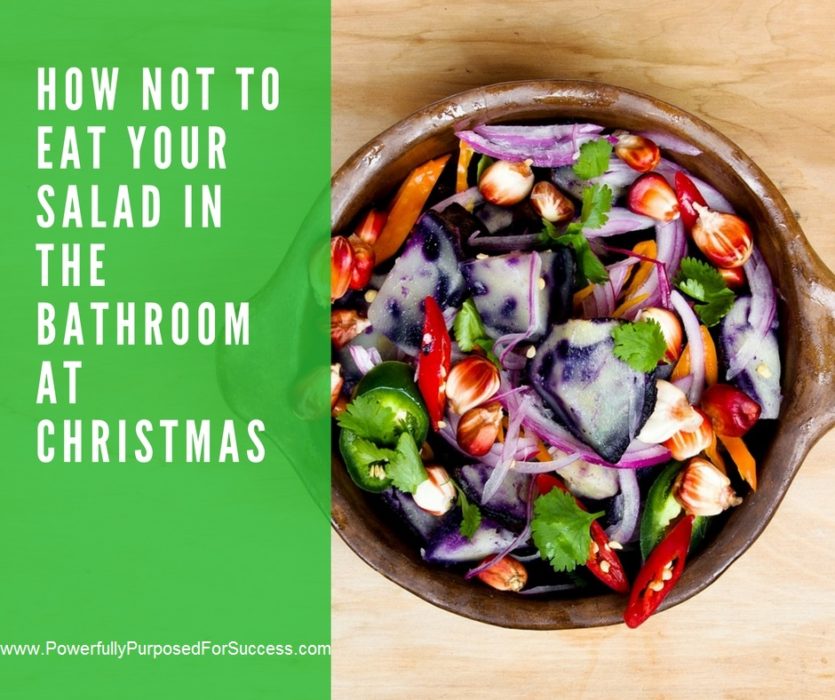 Are you dreading the holidays this year?
Are you worried that friends and family are going to be asking you a lot of nosy questions?
Are you worried about what you will say or wondering if you should say anything to defend your dreams?
What Are the Holidays Really For Anyway?
One of the best things about the holidays is sitting down to festive meals with friends and family.  Whether you celebrate Christmas, Chanukah or something else—the holidays are about family, fun, and food!
Many of the foods served even have a particular story or tradition attached to them.  So as the holidays continue, it continues to be that time of year to eat, drink and try to be merry or at least tolerantly merry with those who may not support your career change or new business dream.
This is why we are taking a much needed break from the usual things in which we discuss on this blog to focus on how to get through the holidays.  In other words, let's NOT turn that holiday feast into a holiday food fight with tempers escalating higher than our caloric intake for the day. 
Be that as it may… if your goal is to quit your soul and energy-sucking occupation to work for yourself… then spending time with family can likewise be a dream smasher.
Why Won't Your Family Support Your Dream?
All things considered, who are the individuals that kill your dreams the quickest?
Well, obviously the ones who love and adore you the most—family and sometimes close friends!
Why?
Because they love you.
This implies they need you to be safe.   
So when you begin looking at shaking things up by leaving your good-paying, secure job to pursue your dream of ______________, they want to take every opportunity to caution you.
In other words, breaking out of the usual career mold of having a job to follow your own unique path—can be scary to those who love you the most.   
What Are They Likely to Say About Your Dream?
One huge word of advice is to never discuss your dreams with people who have forgotten their own dreams. 
You are likely to hear:  
"You will have too many competitors trying to do the same thing you are."
"You don't have enough understanding of how a business works."
"Most small businesses fail."
"Are you still doing that work-at-home thing?"
"You can't be serious about freelancing out of your home."
Remember that most of these comments will come from those who have never owned a business.  Keep that in mind.  Also, they didn't come with you every day to the office to see what you really had to deal with and why you chose to leave.
What Are 3 Strategies That You Can Use to Keep the Peace?
Working in something you love is totally foreign to some people.  I mean doesn't everyone hate his/her job?  Why should you be any different?  Just understand that many are afraid of change. 
Three tips for dealing with uncomfortable questions about your newfound dream are:
Rehearse in advance what you will say. Even if you have no idea what you what they will ask, at least have a few standard answers ready such as: "Thank you for your concern, but I have actually been planning this for a number of years." Or "I am working with experts to help me navigate my transition."
If you are supposed to stay over at their home, you might want to get a hotel or other arrangement. Sometimes it is best to not allow conversations to escalate.  You could also ask to stay over at mutual friend or relative's place.  Keep a limit on how long you will stay.
Remind them that this is the holidays. Some in-depth conversations should be saved for a less festive occasion.  Remind them that you don't get to visit that often, so let's not waste a moment of fun.  Let's eat or look at family photos.  You can always go out and offer to build a snowman or do something fun with the kids or pets.
If you follow a few tips, you will keep the conversation and holiday fun going in the right direction.  And you won't be eating your salad or dessert in the bathroom, but at your rightful place among family and friends.
As always I would love to hear from you, have you decided how you will handle these "sticky" family situations?  Please feel free to leave a comment below.