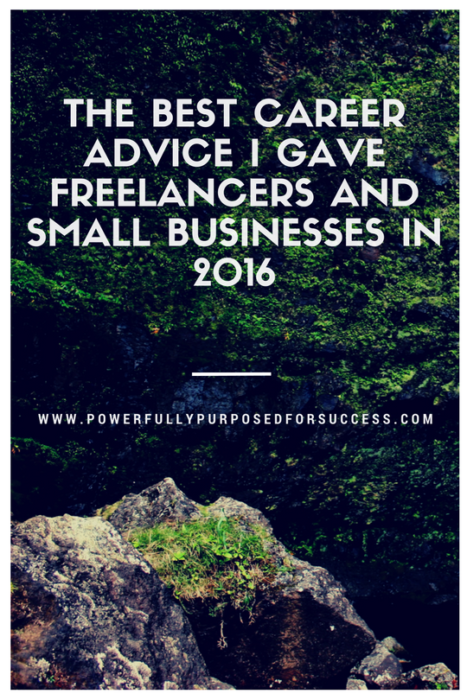 Looking back to 2016, I must say I really did get my soapbox out and roll up my sleeves and deliver the good news of self-employment to the cubicle farmers and the downtrodden of 9-to-5. Most of this is what I learned while attending Hard Knocks University.   Then again, maybe it was 12 Steps for Hard Headed People. 
Well, anyway I must say that in 2016 I did pour out my advice and passion when it came to business advice to small business owners.
The articles in alphabetical order are:
4 Strategies to Go From Stuck to Unstuck Today – It is easy to get stuck these days.  The secret is to get unstuck as fast as possible.
7 Secrets to Less Stress and Greater Problem Solving – Sometimes the greatest stress that we can have is the stress of indecision and just not knowing what to do next.  These seven secrets will help you with greater problem solving leaving less to chance and stress.
7 Tips to Recession Proof Your Business ASAP – This article will give you tips to get through any downturns in the economy.  These are things that you can start incorporating almost immediately.
Are You Really Lazy or One of These 5? – Many people mistakenly think that they are lazy, but they are not.  All of us will work hard and passionately when we find our purpose. 
Don't Give Up Too Soon Your Purpose Will Shine Through – Just because you have run into obstacles, does not mean that you are on the wrong path.  If you can persevere then your purpose will shine brighter than the Northern Star.
Get Back in Control Today – You may feel as if your life as spun out of control.  However, no matter how badly things seem, you can certainly start reclaiming the parts of your life that you are able.
Give Yourself and Your Business a Spring Break – Spring is a time for new beginnings.  You also need a break.  Why not combine the two? 
Have You Lost Your Passion For Business? –It is easy to sometimes feel as if you no longer want to do our businesses.  The truth is that we have just temporarily misplaced our passion. 
How to Defend Your Dreams Without Ruining Your Holiday Meal – This article told you how to still enjoy your meal, not have to reach for the Tums, and diplomatically avoid any uncomfortable conversations during the holiday.  You and The Sugar Plum Fairy don't need to end up in the bathroom!
How to Get Business Through Volunteering – Even though you will not get paid for providing your services, volunteering opens the door for you to practice and showcase your skills.  It can also put you in touch with other business leaders in your community and possibly help land you a contract.
How Unpaid Time Off From Work Can Make You Richer – You may think that you will be losing money by taking unpaid time off.  However, if done correctly a Sabbatical can actually refresh you and your ideas to the point of making more money.
Is Your Business a Winter Wonderland or an Arctic Blizzard? – Being able to identify the "calm before the storm" is certainly helpful.  However, it takes more than that to see if you are on the right path.
Know the 4 Buying Signals From Your Customers – Not all customers are made the same, so not all sales messages will be delivered the same.  It is important to know when to move in and ask for the sale.
Start Thinking Like an Entrepreneur This Week – Whether you feel like a true-blue entrepreneur or not, just start thinking like one.  You must learn this mindset to succeed.
Why It is Okay to Fail in Your First Attempt at Self-Employment – It really is okay to fail as long as you learn something.  Self-employment is something that is definitely not taught in schools.
Why You Must Have Multiple Streams of Income – You don't have to be a celebrity to be able to leverage your income using multiple streams of income.  Just know how to set up your "profit centers" and then juggle them is key.
So there you have it!  I'd love to hear from you.  Where you able to identify or incorporate any of this advice?  Please comment below.