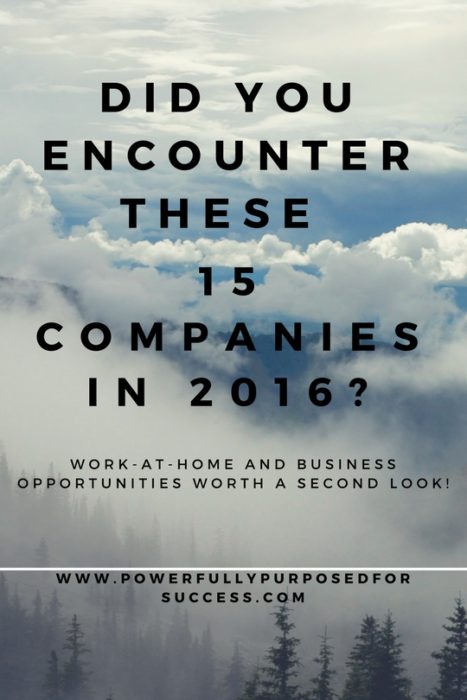 Did you meet these 15 WAH companies or websites in 2016?
These 15 websites were introduced and reviewed in 2016.  Some fit the freelance category, and some are more work-at-home types of jobs.  However, opportunity did come knocking in 2016.
Even though I do encourage others to go their own road as far as their true calling and personal livelihood and get their own individual clients in their own business, sometimes you still need work on the side to build your dreams.  This is what I did in my own personal life.   I worked a couple of work-at-home jobs while I built my two businesses on the side. 
I introduced you to 15 new companies—both work-at-home and freelance related—in 2016.  They are:
11 Websites to Always Find Jobs – This post offers sage advice to anyone looking for a work-at-home job as well as lists 11 great work-at-home blogs with many jobs listed.  You will never be without work if you follow these 11 blogs.
Bestcovery Hires Writers to Write Product Reviews – This is a good place for a new writer to begin.  Product reviews are something most beginning writers can do.
Cambly is a Work-at-Home Tutoring Job – If you love to tutor and can work 2-hour stretches at a time, this might be a good fit for you.  You would be an English tutor to foreign students.
FireGang Hires Dental-Type Work-at-Home Jobs – This company helps dental practices market their services.  They hire remote marketers as well as receptionist-type of jobs.
FreeeUp Hires Those With E-Commerce Skills – Maybe you once sold on Amazon or eBay and really enjoyed it.  However, for some reason you no longer sell, but you would like to love to take these specialized e-commerce skills and assist others while being paid to do so.
HireMyMom.com – This is a post that introduced this paid membership site, where you can find freelance and regular jobs.  Many of the jobs are good paying and career oriented. 
Hubstaff Talent – This website is fairly new, but is quickly catching on.  The really great thing about this site is that it does NOT charge freelancers a fee for work performed.
Interactive Circle Hires Appointment Setters – Appointment setting is a job that many would like to do from home.  This company will hire you and train you.
Lionbridge Now Hires Online Shopping Raters – Once only known for its search engine evaluation jobs, Lionbridge now hires online shopping raters.  This is especially nice for those who were unable to pass the exam for the search engine evaluation jobs.
Opinion Research Pays Up to $50 a Survey – This is a new company, but had a few too many red flags for me to recommend.  If you believe differently, please feel free to comment below and by all means apply to it.
Product Hunt is a Business Opportunity to Create Your Own Apps – This is a website what brings together apps developers and business owners.  Did you know that you can pay someone to develop an app that can solve a problem or run a business?  Then you make money when others download the app.
Replenish Hires Remote Technical Agents – Replenish PDX is a nutritional website that teaches individuals to adopt food as a preventive and holistic medicine.  As a technical assistant you would be working remotely helping members, who have joined the website, with their account.
SkipTheDrive is a Website Which Combines Many Work-at-Home Websites and Jobs into One – Instead of having to log into so many well-known job websites each day, why not just use one that brings them all together.  This site is also easy to navigate when searching for freelance work.
Transcription For Everyone Hires New and Seasoned Transcribers – Many people who want to work from home immediately think about doing transcription work.  They just don't know how or where to get started.  This article will introduce you to one of these companies. 
TutorABC is a Work-at-Home Job For Those Who Love to Tutor – For those who enjoy this type of work, it is not too time consuming to get up and running with this company.   No degree required.
Well, there you have it.  Did you apply to any of these jobs in 2016?  If so, what was your experience?  I'd love to hear about it below.